Conveyor belts have found various uses in different material transport and vertical industrial applications. Generally, the selection of raw materials in construction is done keeping the various application purpose in mind. For instance, materials used for belts and the configuration varies for specific purposes such as roofing shingle conveying, bakery oven belts for pies and pizzas, quarry gravel transport. Belt dimensions can be frequently be customized to match the user specifications.
Some of the common applications of conveyor belts are: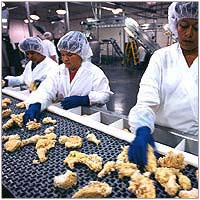 General conveying or power transmission applications. These belts are termed as general purpose and the applications may be such as engine belts, belting for power takeoffs, industrial machinery such as lathes and others.
Agricultural applications include silage transfer, farm equipment and many other applications.
Applications in retail sector for commercial purposes, these may include uses at checkout counters or inventory transfer.
Construction belts are designed for uses in construction applications such as roofing shingles, or plywood or for uses on construction equipment.
Uses in vertical applications such as an elevator. These belts are termed as elevator conveyor belts and are provided with additional safety factors for bucket attachment and holes for meshing with drive and tracking tools.
Uses in pulp and paper industry for transferring pulp, paper or paper products.
Heavy-duty applications in mines and quarries. These belts are known as mining and quarrying belts and may include transport of materials such as ore, stone, tailings, gravel, aggregate, etc.
Manufacturing and fabrication belts for use in factory production lines. These belts are specially designed for specific fabrication purposes such as semiconductor chip manufacturing.
Uses in food and beverage industry include belts for processing applications. Characteristics generally include non-absorbent material and easy cleaning.
High temperature conveyor belts for use in heat-treating applications and are made of materials that can safely tolerate extreme temperatures.