Some of the advantages associated with Indian conveyor belts include- abundance of raw material, skilled manpower, technical excellence and cost advantage. The country ranks among the world's leading producers of different varieties of nylon, rubber, cotton, polyester, anthracite, lignite and cement. These materials form a large part of raw materials used for manufacturing conveyor belts and thus give an upper hand to India.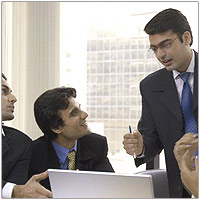 Conveyor belts that are manufactured in India, have gained widespread popularity and acceptance because of the following special properties:
Large range and wide variety
Available in all designs - general duty, heavy duty and extra heavy duty.
Higher carrying capacity with lesser conveyor belt weight.
Smooth and trouble free service.
Unique carcass design and assembly.
Universal applications
Superior adhesion levels
Rot resistance
Superior joint efficiency and increased life.
Higher tensile strength
low belt stretch.
Improved transverse flexibility.
Indian industries also provide a large degrees of customization to suit individual specific demands. Available at economical prices, the conveyor belts from India are worth to purchase and offers profitable proposition.